Thursday, January 26th, 2006
---
11:40 pm
- New Lay out and work
Hey guys,

I know its been awile since my last post lots of stuff going on. I made a new layout.

The job is going good I will be having an extra day so I guess you can say I am full time temperaily. after 2 weeks of working at Richlands, Pounding Mill they want me to start at bluefield which is about 30 min away when richlands is only 10min away. But thats ok they want me there for a few weeks because the company is building somethign up there and they have alot of equipment out and it needs to be guarded.

Sunday was the worse day of my job because there was a hurt doggy I tried to help it. I wanted to call animal control but my dad told me they would not pick the dog up at night. so there was really nothing I could do I think it gotten hit by a car because it keep limping on its leg and acted like it was hard for him to stand he stayed in the same place the hole time I was there. He was a pretty dog. I left a note for the employees to check on him I hope it was ok.

Well i am going to have to go because i have to take a shower and wash my hair and stuff. Talk to ya later. Please commit.

Good Night,
Love Ya,
Mandy

current mood:
dorky
Saturday, January 14th, 2006
---
4:55 am
- First Day at Pounding Mill Quarry
Hey Guys,

I am tired so I am not going to post much. OK here goes going down there was scary it was storming and lighting and frezzing rain then snow. I have never driven in that type of weather so i got scared and thank god i got there in one peice. I still have the shakes from the drive.

Bill only stayed about 30min and then I was on my own. I still don't know where everything is because I coudl no see very well when he was showing me around. So when I did my rounds I did it just at the places I could rember how to get to. I really need Bill to show be during the daylight then I might get a general idea of where to go.

I liked the job I sat most of the time watching dvd's on my dad's lab top.

Well I am going to go I am very sleepy and tired I will try to get more into the hold day when I get up.

Good night,
love ya,
Mandy

current mood:
sleepy
Friday, January 13th, 2006
---
4:22 pm
- A small Post before Work
Hey guys,

I thought I would post before I went to work. Well here goes.

I got my GG lisence plate today. here is a few pics.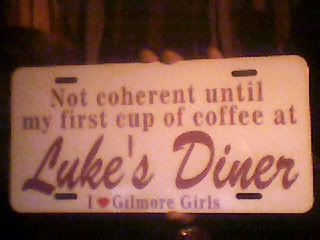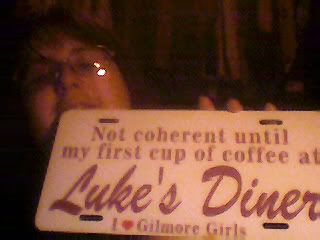 Here is some more of me in my uniform taken today.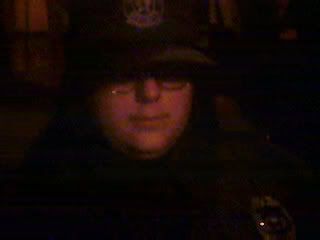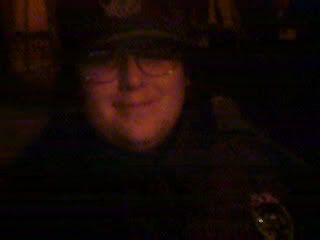 Well thats about it I will try to post after I get home from work.

Love ya,
Mandy

current mood:
awake
2:31 am
- boring survey
1:55 am
- Job Paper Work and Assignments
Hey Guys,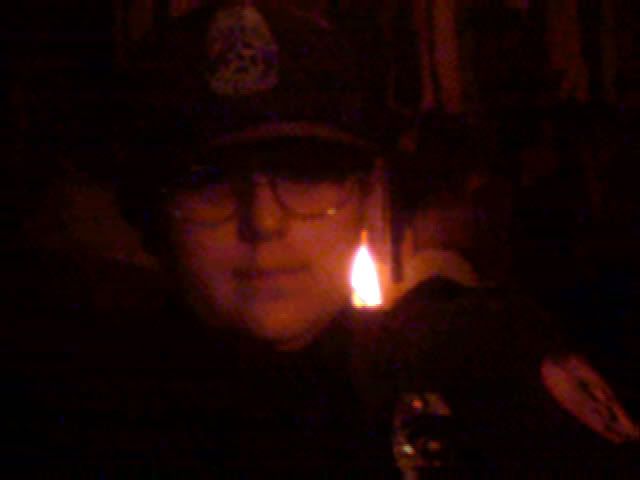 I went to SWS (southwest security) today and I filled out all the paper work so its offical, they really hired me and I am so happy. I so got my uniforms but there is a problem they are too big on me but I did manage to take a decent pic. hopefully when I get some that fit I will be able to take a better pic. It will also be better if I take it in the day light hours because its black and the light in here is not the brightest.I start working tommarow at the Rock Querry. The guy I will be getting my Training from is Bill he's my supervisor and he is a crack up. I think he is going to be fun to work with.

After I got out of SWS me and my mom went to Mcdonalds in Lebington and there was a sign that says please do not feed the cats and then I look down and right next to my window was the cutest little kitten. So I feed it a few french fries lol. It was just to quensidental because I was telling my mom about the sign and it being mean lol.

Guess what else I got to pick up tommarow. I got a GG liscense plate made like that was on e-bay except its different colors I will take a pic of it tommarow and post it. I had it made at R&S Outlet and if it turns out good I will have them make me a gg t-shirt Luke and Lorelai of course :)

I was lookign for an old kinfe to put in my duffel bag od stuff I plane to keep in the car when I am at work and you will nto guess what I found. I thought I was completly out of regular printer paper and I found a whole pack that had not even been opened yet in my shelf. Today has been kinda intersting. I just hope that tommarow is good also because the hole Friday the 13th thing is a big scary.

Well I am going to take off if I am not too tired I will put a post about my 1st day up when I get home because I will not be home till after 4am.

Good night,
Love ya
Mandy

current mood:
excited
Wednesday, January 11th, 2006
---
2:17 am
- Tonights GG thoughts
Hey Guys,

I told you I would post today and here is my thought on tonighs eppy.I liked the eppy but I felt it was missing something but I don't know what. I loved the scean where they are talking to luke about his dubble and it being a Dolly impersnator and I like the Kirk and Luke scean I thought they where both funny.

I thought Lorelai's dress was pretty, though it did not really scream LORELAI to me. I thought Lorelai was cute when she was telling Luke the wedding planes though I felt bad that Luke did not get to help plane it. I also liked Anna but I think Luke should have been more mad at her sht did keep his kid away from him for almost 13 years and he has a right to be pissed. I am glad to see that he wants to get envolved with April. Like Luke would just walk away yah right.

Rory was alittle bitt too winny in this eppy I thought. The theroy sceen was kinda too over the top and the way she treated logan after he said I love was was alittle harsh I think. I have to agree with Lorelai on the appartment come on paris could have done way better.

I loves Mrs. Kim in tonights eppy it seems like she is really starting to see Lanes side of things and allowing Lane to be her self and express her self. I was shocked by Mrs. Kim lettting Lane drink.

I am really looking forward to next weeks eppy it looks liek a good one.


I am sorry to all of you all on my msn messanger I have not been on the computer much today basicly because I was gone most of the day and then I had my brother up so that taking up alot so.

Well I am doing now my back is killing me. Good night.

Love ya,
Mandy

current mood:
sore
Tuesday, January 10th, 2006
---
12:50 am
- New Wallpaper and a New Job
Hey Guys,

Less then 24 hrs till the next new eppy of gilmore girls I can't waite.
Here is a wallpaper I made in horner on the new eppy
spoiler warning
http://img27.imageshack.us/img27/2889/lukenlorelai360gq.jpg

I also got a new job today I will still be working security but a different place and a different company. I will be working at a rock quarry and at the local mall, Friday, Saturday, and Sundays. I have to go thursday and fill out all the paper work and get my uniform when I do I will show you what I look like in the new uniform. Its only a part time job and I am only making 5.25 an hour but it is still better then nothing, but soon i will be an armed security guard and then I will have a better chance of makeing more money at the job.

Well I better take off I will try to post agin tommarow. Hell I will post tommarow about GG I can't waite.

Good night,
Love Ya
Mandy

current mood:
cheerful
Sunday, January 8th, 2006
---
6:00 pm
- New Video
Thursday, January 5th, 2006
---
1:18 am
- Scott and Lauren Wallpaper
Hey Guys,

Why is no one commenting on my entrys it is starting to make me discuraged. I even posted my video on message boards and I have yet to get any commits on it except for 3 on where the vidoe is posted. Here is a wallpaper I made that since no one seems to be intersted I am debateing weather to post it or not.



My prayers go out to
genevieve and her family I really hope her father is safe and will be home soon.

I am worried about Betty I had to lone her $30 today and I found out that she had not eaten in 2 days because she could not aford it. When I saw her this evening she was sick and that worries me even more. I am going to go see her tommarow night I hope she will be ok.

Lest then a week away till the return of new Gilmore Girls i can't wait.

Well it late and I am sleey so I am going to stop here.

Love ya,
Mandy

current mood:
rejected, worried, and sleepy
Tuesday, January 3rd, 2006
---
10:09 pm
- What's My Fav Character
I stole this from
genevieve's journal.

1. Post a list of up to 20 books/movies/TV shows/video games/etc. that you've loved at some time.
2. Have your flist guess your favourite character from each item

1. Gilmore Girls
2. Charmed
3. Guiding Light
4. Sisters
5. Suite Life of Zach and Cody
6. Growing Pains
7. Facts of Life
8. Anne of Green Gables
9. Boy Meets World
10. Full House
11. The Brady Bunch
12. Roseanne
13. Grease
14. Pratical Magic
15. Now and Then
16. Little House on the Parrie
17. Friends
18. ER
19. Lizzie Maguire
20. Mermaids

I know this shows make me sound lke a dork but oh well lol.

current mood:
bored
Saturday, December 31st, 2005
---
3:22 pm
- Happy New Year
Hey Guys,
I would just like to wich you all a very happy and safe new year. Don't party too too much..

Pease tell me what you think of the new layout.

Love ya,
Mandy

current mood:
calm
Friday, December 30th, 2005
---
12:49 am
- The Trip and the Video
Hey Guys,
I know I have not updated in a few days thats because I was sick I got a migrane wile I was at my brothers and yesterday I mostly sleep.

I am guess you are wandering how it was at my brothers, well it went pretty good except for getting sick, My brother got me a massage chair, a sound and light machine, a few stuffed animals and a Duffel bag. His girl friend got me som popuree and a stuffed bear. Me my mom and brother watched the series Firefly just about the whole time we where there and then we watched serinity. And thats about it.

Ok today well I got inspired I guess you could say and I made a new music video. This one is different from all my other music videos in that it is a three tv show cross over it has 3 of my favorite couples of course Luke and Lorelai but there is also Piper and Leo from Charmed and Gus and Harley from Guiding ligjht. Here are 2 links to my video I hope ya like it please tell me your thoughts.

here is the 1st Link:
http://www.zippyvideos.com/9169316132918636/bestoflove/*javajunkie1981

Here is the Yousend it link:
http://s22.yousendit.com/d.aspx?id=25XPD3PKZS4UF29M4XL48ERQYO

Well thats about it from me. Happy New Years.

Love ya,
Mandy

current mood:
giggly
Monday, December 26th, 2005
---
1:22 am
- Crazy Christmas Fun
Hey Guys,

I hope you all had a great christmas. Here's a little video of me talking about what I got for christmas.
Christmas Video its a little embarrasing but I just wanted to try it out and see what you guys like of video messages.

I also made a video gallery which as of right now has 30 of my gilmore girls videos I have created. Here is the link to the gallery.
http://javajunkie1981.zippyvideos.com/

Please tell me what you think. I would also love to hear how all your christmas's went.

Love ya,
Mandy

current mood:
crazy
Wednesday, December 21st, 2005
---
2:23 am
- Feeling a bit less pissed..
Hey Guys,


I hope you like it

I am upset because I didn't get to see Betty tonight my dad had to take my car to work because it had more gas, and I can't drive my dads truck which sucks. Oh well I am going to try to go see her tommarow though since my dad is off.

Next Tuesday I will not be here I am going to Kingsport and we will be celebrateing christmas there with my brother since he can't come home.

Well I am getting sleepy so I am going to take off talk to you guys later.

Love ya,
Mandy

current mood:
Mad
Tuesday, December 20th, 2005
---
2:59 pm
- Riped off and Pissed
Hey Guys,

You know I told you that I was going to get paid today right well I did and the damn company did not pay be for the 40 hours I worked they said I only worked 23 which is wrong I worked one weekend which is 2 12hr shifts and then 2 days that where 8hr shifts and is you add all of that up that is an even 40hrs then the company took out over $110 of my check and $24 in taxes so all I got on my last check was $46 not even enough to do anything.

Then today in the mail I got a bill from the hospital where I sprained my wrist a few months ago and I hurt it on the job. It is susposed to be workers comp but they did not pay any of the bill. The Bill is $170 which I don't have.

My dad say's I should send Cumberland the bill because they have to pay for it. But I have a feeling they will say where I quit even though it happend months ago that they can't pay for it.

Well I am done for now I will try to post something good later.

Love ya,
Mandy

current mood:
pissed off
Monday, December 19th, 2005
---
4:49 pm
- The Christmas Tree
Hey Guys,

Sorry I have not updated in a wile I have been lazy. I have no other excuse.


So well I won a contest on Kicks Country a local Radio station around here. I guess you are wandering what I won well I won 5 cds. Reba's brand new CD, Kevin Sharp's new CD, A Neal McCoy Favorite Hits CD, ad 2 singels. It took us forever to find the radio station we got the map from Map Quest and it sucked I don't recomend that place for a good map. It took us over an hour after we got to Bluefield. But we finaly found it and I got my CD's.

I was so upset yesterday my friend Betty called me crying because she needed some money to pay her elictric bill but I didn't have it I even tried to barrow the money from my aunt. I just hope she knows that if I had it I would give it to her. But right now we don't have anymoney either, I have not even paid my car payment this month because we couldn't aford it. I get paid tommarow but it will not be much. I called her to explaine I hope she doesnt hate me now.

I got the prettiest Desktop last night from mine is the Living Snow Globes #3 it moves and its so pretty. I highly recomend it.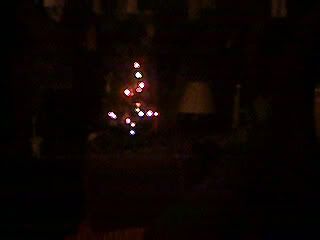 You will not belive who's back in my life. Darrell after 2 years of no contack he is now talking to me on line. But we are just going to remaine good friends.

I finally put up my christmas tree well the baby one in my room. My mom and I will probly put up the big one later tonight in the living room.

Heres a few pics I took last night.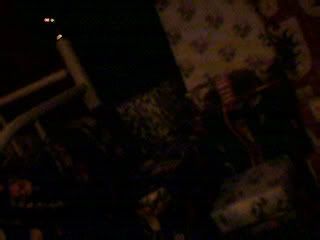 Mound of Presents I bought and Wraped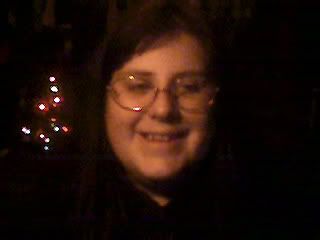 My Big head infront of Christmas Tree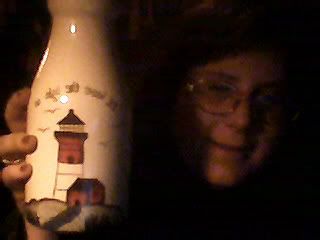 Here is me with the Light House Milk Jug that Melinda gave me for christmas.

Well I am going to say bye for now I might post agin later. Be Good.

Love ya,
Mandy

current mood:
crazy
Wednesday, December 14th, 2005
---
6:13 pm
- Christmas Presents and Jobs
Hey Guys,
I am so in the christmas mood. I went last night to see some of my friends from work and Melinda gave me some presents early hehehe. I got me 4 light houses and a Light house jug.
So I guess now you all know I collect Lighr houses. I also collect Stuffed Animals and Blankets. Speeking of Stuffed Animals I got Melinda a Angel Bear
She collects bears and she did not have one like this so she loved it. I got Betty a Coffee Mug and 2 packs of Cigs. Betty almost cried.

I have been wraping presents today I got one more for my mom last night when I went out so now I have 5 for each My Mom, Dad, and Brother. I hope they like what I got them. LOL I get so into the giving part of christmas I even got my brothers girl friend something. I still have to mail one of my friends her's but it might be late becaus eI am out of money lol. Wow its hard to belive there is only 10 more days till christmas and we still ahve not put up our tree yet. Well basicly thats because we will not be able to really have Christmas till the week after christmas when me and my dad get paid. I get my last pay check the 20th but it will not be much.

So how do you like my new way of updateing my journal. I am trying to make it like a mag. artical.

I talked to a lady that I met at the hospital abotu 3 months ago and she said she has a job for me and its garrenteed.
I she will call me when she and her husband are ready for me I would be doing secertay work for her husbands bussiness he owns a Heating and AC Repair bussiness. And the best thing is it only about 2 miles from my house so It will not be hard to get there when the weather is bad. She told me it wold be part time to start with and then later on it could be a full time perminate job so that is cool. I dout I will start till after the 1st of the year thoe.

Well I better go before this entry becomes too long.

Love ya,
Mandy

current mood:
Christmasy
Tuesday, December 13th, 2005
---
4:43 am
- Some New Graphics
Hey Guys,
Not much is going on so I decided to make some graphics before I went to bed. I know what your thinking it 4:37am why are you not asleep now. Well I don't know but I am starting to get sleepy so here are the graphics.

New Lauren Wallpaper:



2 New Icons:





Some Christmas Graphics I made a few Days ago:





Well thats it I am going to go to bed now I hope ya like them.

Love ya,
Mandy

current mood:
sleepy
Sunday, December 11th, 2005
---
10:27 pm
- I am Rudolph hehe
You Are Rudolph

Sweet and shy, you tend to be happiest when you're making someone else happy.

Why You're Naughty: You sometimes stick that nose where it doesn't belong

Why You're Nice: Christmas would be a sad affair without you!
Your Christmas is Most Like: A Charlie Brown Christmas

Each year, you really get into the spirit of Christmas.
Which is much more important to you than nifty presents.
Your Brain's Pattern

You have a dreamy mind, full of fancy and fantasy.
You have the ability to stay forever entertained with your thoughts.
People may say you're hard to read, but that's because you're so internally focused.
But when you do share what you're thinking, people are impressed with your imagination.
current mood:
bored
10:11 pm
- Snow and Cookies
Hey Guys,

For the interst of today well its been snowing and cold burrr. The weather says we are susposed to get 3 to 5 inches of snow and it will be cold all week. Schools are already on 2 hr delay here maybe they will close before morning I don't know but I don't go to school but it always intersts me when it is canceled because when its closed there's more traffic then when they are open.


I made cookies this evening Chocolate Chip Yummy. Want some hehe..


I was mad that GG was not even nomatied for the Family Fourm Awards. Gilmore Girls is so deserving of awards and why don't they get them grrr...

I made a new friend online she seems cool.

If I don't get a new job soon I am thinking of makeing a new LL video but the only problem is finding the perfact song that has not been used amillion times.

I can't waite till christmas just 14 days to go and 29 days till Gilmore Girls comes back from hiatus.

Well I am going to go for now Talk to ya laters.

Love Ya,
Mandy

current mood:
cold